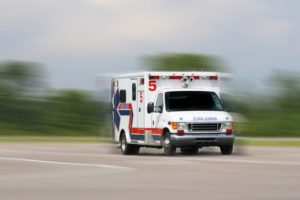 "Mrs. McPeake, we believe your husband has died of a heart attack."
These words were the first the doctor had spoken. These were the first words anyone had spoken to me or my Mom since the police officers had picked us up at our home and driven us to the ER. Along the way, we'd passed the scene of the accident. I could see my father's car smashed up against a tree on the side of the road.
It was 1978. I was nine. My Mom and I were sitting inside a tiny, windowless room at the hospital. I didn't want to hear any more and bolted out of the room and into the hallway. Clutching my beloved Pooh Bear, I rocked back and forth on a hard plastic chair mumbling "he didn't say died" over and over.
But it was true. And my and my mother's lives were forever changed.
I got up the courage to return to the tiny, windowless room after the doctor had left. I sat down next to my Mom, who was just staring blankly ahead. I hugged her and asked, "Are you going to get remarried?"
Looking back, I'm deeply embarrassed that these were my first words to her, but to be fair, I knew that my father was the breadwinner while my mom stayed at home with me.
My parents had both grown up in working class families in the 1940's and 1950's. Families where the month always lasted longer than the money. My mom was the oldest of six. She was Valedictorian of her high school and dreamed of going to college, but instead went to work as a secretary to help provide for her younger brothers and sisters. My father had been the youngest of four. His own father had died when my dad was a toddler and his mother had worked in the textile mills of southern New England to support her family. My father put himself through college, studied Electrical Engineering and started a career in management of technology companies. Together, my parents were able to buy a house in the suburbs, put two cars in the garage, give me a room filled with all the toys I could want and build a solid upper middle class life for our family.
But now, all of the financial security that she and my father had finally come to enjoy was gone.
What was going to happen to us?
That's exactly the question my mother was asking herself.
What would she do for income? She hadn't worked in nearly ten years, and, then, as a secretary. She could never match my father's c-suite earnings….How drastically could she reduce our expenses? We had just upgraded to a five bedroom home in a nicer suburb….What about health insurance? This was 1978 and there was no COBRA protection. My father's company-issued policy would expire at the end of the month….
Over the years, I watched as concerns about money consumed my mother. It was quite understandable in the first six years when we were subsisting on Social Security Survivors' benefits and she put herself through college and then law school. They persisted, however, even after she embarked on a successful legal career. So often she said "no" to herself, when she could have said "yes." Yes, I can afford a new TV. Yes, I can afford a vacation.
She never found the person who could help her answer the questions that kept her up at night. A professional to work with her to build a financial plan and regain some of the security she'd lost when my dad died.
This is the reason I've become a financial planner. I help women, like my mother, who are going through profound life transitions. Some have recently been widowed while others are newly divorced. Still others have been flying solo for some time but seek to retire or otherwise change course in a profound way. For these women, I build financial plans that help them regain financial security and allow them to say "yes" to themselves.